Chances are you have a cell phone. If you're in the business world, it's even possible that you have TWO cell phones. But even if you've got the latest phone on the market, chances are there is one feature your phone doesn't have – 720P HD Video Recording.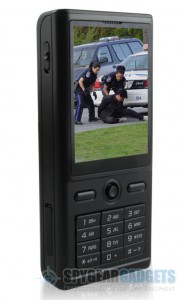 This isn't some cheap spy camera. This device is a professional-grade camera and DVR used by law enforcement and government agencies across the country.
Our new HD 720P Cell Phone Camera DVR not only records video in high definition, but even allows you to connect external cameras, so the device functions as a portable dvr as well. This gives you the flexibility to record with cameras such as a button camera, earphones style camera, hat camera, or even a tie camera!
Video is recorded internally to a hidden micro SD card, which means you can easily view the files not only on the built-in 2.4″ LCD screen, but you can easily view them on an PC or Macintosh computer!
For ultra covert operation, you can switch the LCD screen into "spy mode", which displays the time/date and a fake signal strength indicator, so the screen looks like a regular cell phone. You can also have the screen remain completely blank, so no one will be able to tell you are secretly recording 720P HD Video.
The Cell Phone Spy Camera DVR is PACKED with features:
Time/Date Stamp and Frame Counter
Password Protected Operation Mode
Compatible with External Cameras
Adjustable Resolution, Frame Rate, and Quality
Motion Activated or Continuous Recording Moes
…and Much More
Watch Playback Right on the LCD Screen: