When most people think of a DVR, they think of the device hooked to their TV that records all of their favorite television shows. While that is one of the most common types of DVRs, there is another type of DVR that is used for recording video.
A portable DVR is a battery-powered DVR that is often used for recording video from an external camera, most often a wired camera such as a button camera. Portable DVRs can actually be paired with almost any wired camera, whether it be a hat camera, tie camera, or even a power cord camera.
Whether you are a private investigator, law enforcement official, homeowner, or a business owner, a portable DVR has dozens of uses.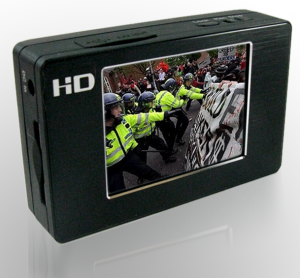 Our 720P HD Touch Screen Portable DVR is one of the best selling DVRs available on the market today. It is a professional grade device trusted by law enforcement and private investigators across the country.
Unlike cheap consumer-grade DVRs on the market, this portable DVR features a rugged design that is meant for heavy use.
It is also packed with features, allowing you to completely customize your recording. Adjust everything from the video resolution to the frame rate to the recording mode. You can even toggle the time/date stamp, frame counter, and even password-protect the device.
Check out these amazing features of our 720P HD Touch Screen Portable DVR:
True 720P HD Recording at 1280×720 resolution at 30fps
Motion Detection and Continuous Recording Modes
Time/Date Stamp, Frame Counter, and Device Password Protection
Video Recorded to SD Card for Easy Playback on any Computer or TV
Compatible with Any Digital Wired Camera and Also Older Analog Cameras
Our hands-on video shows how easy it is to use this powerful DVR: