The battery-powered Mini Clock Camera Pro is the perfect hidden camera that can go anywhere – your home, office, or even on the road with you to hotel rooms to make sure the maid isn't taking things from your luggage.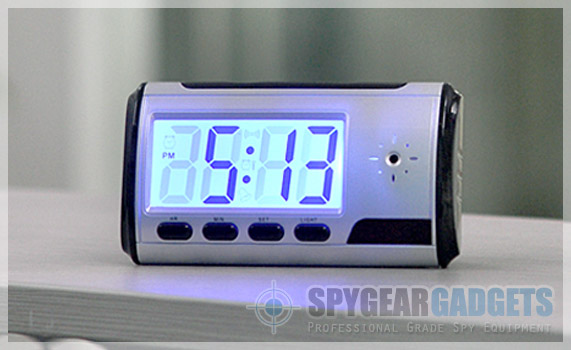 Using the Mini Clock Camera Pro is easy – simply insert a micro SD card up to 32GB capacity, and turn the camera on.
You can record video either with motion-activation or continuous recording, so you can completely customize how video is recorded.
Starting and stopping video recording is simple too with the included IR remote control. With the remote you can start/stop recording, enable motion activation mode, enable continuous recording mode, and even take photo snapshots!
Use the Mini Clock Camera Pro to:
Monitor your home or apartment while you're at work
Keep your office secure and find out who is going through your desk
Use as a nanny camera to keep tabs on your babysitter or nanny
Place in your retail store or business as an extra set of eyes
Take with you on the road to hotel rooms to keep your stuff safe
Videos are recorded in HD 1280×960 resolution clear color video, so you can see exactly what is going on when you're not around.
Play back videos on either PC or Mac computer –  either use the included USB connection cable for a direct connection, or simply remove the micro SD card and insert it to a card reader or your computer's card slot.