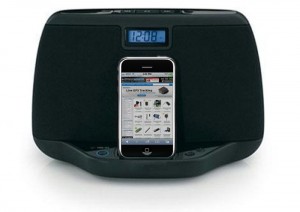 Some of the best nanny cameras are the ones that blend in perfectly with their environment, so our newly redesigned HD iPod Docking Station Hidden Camera could very well be one of the most covert hidden cameras you'll ever find!
This easy to use covert video recording device features both motion-activated and continuous recording modes. This allows you to either capture video only when there is movement, or you can record continuously.
Because the particular camera is powered by a wall outlet, there are no battery life concerns to worry about! Just insert an SD card into the camera (up to 32GB), turn it on, and it's ready to start recording!
When you're ready to view the recording, simply connect the docking station to your  computer's USB port, and view your HD color video!
The best part about the iPod Docking Station Hidden Camera is that all of the features of the docking station are fully functional! That means you'll be able to plug in your iPhone or iPod and listen to your favorite music. It even acts as a charger, so you can charge your device too. That makes this device perfect for your home or even your office or business!
The iPod Docking Station Hidden Camera features 16GB of internal memory, and is available now for only $349.